By placing your order at Wereldstenen (www.wereldstenen.nl) you acknowledge that you agree to the sale. These include the LEGO parts and LEGO sets.
LEGO market is a platform for and by LEGO fans and is not part of the sales activities of Wereldstenen.nl. Wereldstenen.nl is not liable for the consequences of incorrect or incomplete Lego ads on this platform.
Quality
The products of World Stones are new and used. LEGO sets are new and packaged in the original vepakking. Older LEGO sets may have minor damage to the box due to age. If in doubt you can always request a photo. LEGO Spare parts are sorted into new parts and used parts.
Delivery times
The delivery of your order depends on several factors. These are the payment method, complexity of the order and the reordering of any missing parts. There is no partial shipments sent an order is sent in its entirety. Consider a processing time of 2 to 3 weeks. All our products is indicate how many pieces we can deliver directly from stock.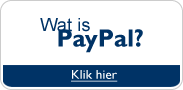 Payment is
in advance
.
You have
10 days
to
meet
your payment
,
then
we
cancel
the order
!
This
before we
proceed
,
we will
send
payment reminders
.
We
accept different
payment methods
:
Bank (Banktranfer to the Rabobank)
IBAN (for customers abraud)
PayPal
Mastercard trough PayPal
Visacard trhough PayPal
Cash by Mail
Cash
iDEAL (In development)

We prefer to pay using iDEAL. This is very fast and reliable. You can use iDEAL when online banking with one of the major banks (ABN AMRO, ING Bankl, Fortis, SNS Bank). For more information about iDEAL on the iDEAL website (http://www.ideal.nl/).
Our second choice is for a transfer via the Rabobank.
PayPal is an online payment service that allows you to articles on eBay, BrickLink and other online stores can afford. PayPal can also pay by credit card!

Even cash in the envelope is accepted by us. You can also send your order (by appointment only) pick up the order and cash.
Shipping


For shipping and delivering the amount you pay for closing the order indicated. Shipments are via TNT Post.
The articles are professionally packed. By default, all packets in the Netherlands with a barcode. This makes it easy to track your package. Wereldstenen.nl carries no risk of damage and loss of items during transport. You can, if you do not want to bear risk, choose the package registered and / or insurance to be sent. If you receive items you did not order, you must tell us ASAP to inform. You can use the contact form on the contact menu.
TNT Post Standaard pakket inside the Netherlands: € 6,95
TNT Post Verzekerd pakket inside the Netherlands: € 8,95
TNT Post Verzekerd pakket Belgium: € 12,95
TNT Post Verzekerd pakket Germany: € 12,95
responsibility
The contents of this site with the greatest care. Wereldstenen.nl can not give guarantees regarding the nature, accuracy or content of this information. Wereldstenen.nl is not liable for the consequences of incorrect or incomplete information in its website or mailings.
Privacy
By creating an account, your personal data stored in the client file. Any information you provide will only be used for internal and automatic processing in the context of a responsible customer and business for sale, such as processing orders and customer. We provide no data to third parties that affect your privacy, you will not receive unsolicited mail (spam) from us, except for important announcements.
Minimum order value
Your order must meet the minimum order value of 10 euro.
Other provisions
By placing an order the customer every unconditionally agree to the above terms and conditions. On this sale is exclusively Dutch law.